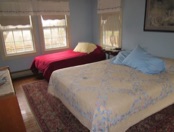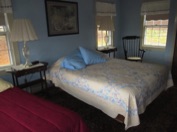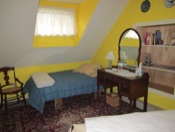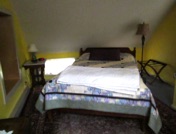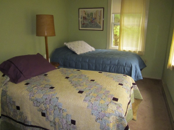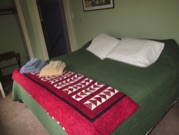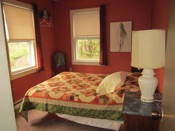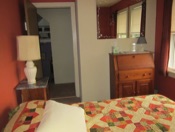 The Hudson is our most popular room with one queen bed, a single bed, & a private bath.
$ 110 double occupancy
The Hudson River, is about 20 miles to the west.  New York Parks & Trails sponsors a bike ride along the Hudson to New York City each summer.
The Hoosic has a full-size bed & a private bath, with a claw foot tub & separate shower.
$ 100 double occupancy
The Hoosic River is one mile to the south, where human powered floating devices can be put in for a seven mile down stream paddle.
The Battenkill is a cozy, cheery room on the top floor with twin beds (or a king) & shares a  bath with the  Walloomsac.
$ 90 double occupancy
The Battenkill, world renowned for fly fishing, and great for kayaking & tubing is 10 miles to the north.
The Walloomsac Room which has a full-size bed and a view of the pond, and shares a bath with the Battenkill.
$ 80 double occupancy
The Walloomsac River, a local fishing spot, is 5 miles to the east.

The Fine Print
• add $20 for an addition person in a room, subtract $20 for single occupancy
•Check in is after 2:00 PM and checkout is before 11:00 AM, but please ask if you need to make special arrangements, we'll do our best to accommodate you.
•A one night deposit is required for a reservation.  If you cancel at least two weeks before your scheduled arrival, we'll send your deposit back.  If you cancel less than two weeks out and we fill the room, we will also send your deposit back.
•Payment methods: at this time we can only accept checks or cash. (Prices do not include 7% NYS sales tax or the Washington County 4% occupancy tax.)
•A 3-night, or longer, stay entitles you to a 10% discount on your entire visit.
•The house & much of the grounds are not wheelchair accessible.
•Most of the bikes require a minimum height of 5' 2".  This does not exclude "smaller people" from visiting us, but it does limit their recumbent experience.
•Smoking is not permitted inside, near the house, or at the recumbent test track. 
•There are no televisions, no internet connection, & no air-conditioning.  Cell phone service is improving.  The house is secluded, off the beaten path, the road less taken, out in the woods;
you get the idea.
Special rates & arrangements may apply for large, friendly,
and/or related groups, let's talk.  It doesn't hurt to ask.
Groups that occupy the entire house receive a 10% discount.